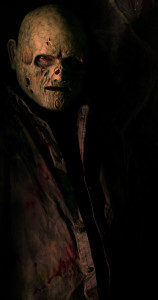 SECURITY CHECKPOINT NOTICE
For the safety of all we have a security check point at the entrance.  Please do not attempt to bring LIGHTERS, POCKET KNIVES, or WEAPONS of any kind or other prohibited items into the haunt. We ask you to please leave all prohibited items at your car or you may leave them at the security check point. You may pick your personal items up after completing your tour of the haunt. Everyone is scanned at the door before being allowed to enter so PLEASE be patient.  We want everyone to have a great time.
SMOKING REGULATION NOTICE
City of Fairhope regulations require that we enforce a NO SMOKING policy on the haunt premises. We appreciate your consideration and compliance and apologize for any inconvenience this may cause.
Q: Is the haunted house scary?
A: Nightmare Chambers is an extreme experience. It is not recommended for the young or those easily frightened. It is designed to evoke your worst nightmares or terrors. Fear is a state of mind, however.  We've had six-year olds endure the haunt well while grown men and women have fled in fear midway through. Our aim is to get you out of your comfort zone. We will do our best to startle you, make you nervous and terrify you.
Q: What can I expect to see?
A: Nightmare Chambers is designed to bring your deepest fears to the forefront. We use lighting, smog and smoke effects, strategically placed scares, sound effects, professional horror effects and a number of other features to enhance your experience as you work your way through the house.  We have both indoor and outdoor attractions this year.
Nightmare Chambers Featured Sponsor
Q: What should I wear?
A:  There are no dress requirements beyond those of basic common decency. Since we do have both indoor and outdoor features this season, we suggest that you wear shoes in which you would be comfortable walking through wooded terrain.  Unless specifically stated prior to entry, we will not purposely splatter you with blood and gore, but since those items are a part of the haunted house and it will be dark inside, you may accidentally brush against something that could potentially smudge your clothes.  For that reason, we suggest that you don't wear your Sunday best.
Q: Can children go through the haunt?
A: Enter at your own risk.  Nightmare Chambers is an extreme experience and we don't recommend it for children under the age of 12! Children who are frightened at the door will not be forced to enter.
Q: Do you offer a reduced price for children?
A: Nightmare Chambers is not recommended for children. There is one price for general admission regardless of age.
Q: Can a pregnant person enter?
A: Enter at your own risk, but Nightmare Chambers is not recommended for anyone who is pregnant.
Q: Are the monsters allowed to touch me?
A:  Nightmare Chambers has a "no touch" policy; you don't touch the monsters, the monsters don't touch you.  Due to the dim lighting inside the Chamber, you may come into accidental contact with our staff but you will not be purposely touched or grabbed.
Q: Will there be live animals like rats, roaches and snakes?
A:  We do not have live animals for any of our scenes. But the attraction is a walking path into the woods.
Q: Can I leave if I get too scared?  If I leave before the end, will I get a refund?
A: If you cannot take the terror, our security staff will escort you from Nightmare Chambers.  But remember, you paid us to scare you.  Even if you leave early, we've done our jobs. NO REFUNDS
Q: Do you have security on site?
A:  Yes. For your protection and to maintain a safe and fun atmosphere, we have security on staff to help us manage the crowds at Nightmare Chambers. Please keep your lighters, pocket knives, any weapons of any kind in your car or you can leave them at the security check point. Everyone will be screened by a security wand before entering the haunt Please be patient!  This is for your safety and the safety of others. Leaving prohibited items at home or in your car will cut the wait time in half!!
Q: Will the haunted house be the same as it was last year?
A: Absolutely not. The attractions change every year. We strive to make the experience different from day to day.  No two Nightmare Chambers experiences are exactly the same.
Q: Can we take photos or videos?
A: There will be random photo opportunities with some of our monsters outside Nightmare Chambers, but photography or video of any kind is prohibited inside Nightmare Chambers.
Q: Can I hit the actors? Can I take the props? Can I destroy the rooms? Can I come through the haunted house drunk or stoned?
A: Nightmare Chambers does its best to make our haunted house a safe and fun atmosphere for all.  People who are visibly intoxicated will not be allowed to enter. If you abuse our monsters or our property you are hindering our ability to provide entertainment to other patrons and we will respond accordingly. We discourage foul and vulgar language. Weapons of any kind are not allowed inside Nightmare Chambers. We have a few simple rules for behavior, designed to maximize your experience and that of the others around you. Adhere to those and everyone will have an enjoyable, horrifying night.