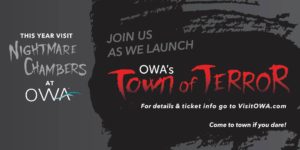 OWA Opens New Haunted House, Oct. 6
OWA's Town of Terror to open in collaboration with Nightmare Chambers
(Foley, Alabama) – OWA will partner with local haunted house company Nightmare
Chambers to present OWA's Town of Terror. The frightening maze will open at OWA's
property located in Foley, Alabama. Prepare to scream because OWA's Town of Terror
will include more than 10 terrifying themed sections. From an insane asylum to evil clowns
to the deranged town butcher, OWA's Town of Terror will be the largest haunted house in
the area. It will also be the only attraction on the Gulf Coast to incorporate ticketing options
for an amusement park and haunted experience, allowing guests daytime fun and
nighttime frights.
"OWA continues to focus our vision on creating a world-class entertainment destination in
Foley, Alabama. We are constantly seeking unique ways to enhance our current
entertainment lineup and are excited about the opportunity to add OWA's Town of Terror
to this October's schedule," said Kristin Hellmich, OWA's Director of Marketing and Public
Relations.
OWA chose to collaborate with Fairhope-based Nightmare Chambers for development of
the venue and assistance with operations for OWA's Town of Terror.
"For more than 10 years, Nightmare Chambers has proven they have what it takes to
operate a successful haunted house in market. It was a natural fit aligning with their
expertise to help OWA develop a new haunted house concept for our property," said Greg
Rawls, Director of Business Development for OWA's parent company Creek Indian
Enterprises.